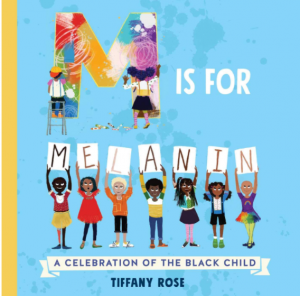 This gorgeous alphabet book is a celebration of black children everywhere.
Each page features an affirmation, beautifully illustrated with happy children who are making their mark on their world. From A for Afro, B for Black, and C for Creative right through to X for Malcolm, Y for You and Z for the Zillion people trying to tell you to be someone else – this book encourages kids to be the best version of themselves.
Every child featured is unique and each has their own special style. We see black skin in a wide variety of hues (including a child with vitiligo and another with albinism) and so much joyful freedom of expression –  I really can't recommend this book highly enough!
It teaches children to be bold, to lead with purpose, to use their voice and to be proud of who they are. Each page is beautiful in its own right but my favourite is the very last one which declares you should 'Always be your free, talented, quirky, imaginative, melanated self. The world will adjust."
Aimed at children aged 3-6, I feel that this is a book which should be on every school bookshelf as it's a fantastic anti-racism resource. I have purchased a copy for Ivy's classroom and I would encourage others to do the same if they are able.
Buy from Bookshop.org and support independent bookshops: https://uk.bookshop.org/a/155/9781529062502
Buy from Amazon UK: https://amzn.to/3lCvbjz
Note these are affiliate links and Ivys Library receives a small commission if you choose to purchase through them.