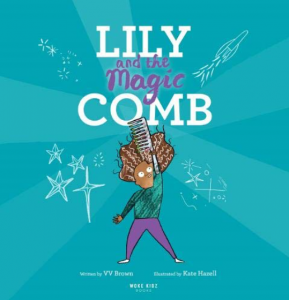 It's Lily's birthday and her Mum has given her a beautifully wrapped box with a resplendent yellow bow. What could be inside? As she unties the ribbon and tears the paper Lily wriggles with excitement. She knows Mum's present will be very special – and she's right!
Inside the box is a sparkling wide-toothed comb decorated with pink stars. As she stares at it in wonder her Mum explains that this is not just any old comb. This is Lily's special comb and it is filled with history and magic. Using it will transport her anywhere her imagination wants to take her!
As Lily pulls the teeth of the comb through her abundant curls she wiggles her nose to activate the magic and whooosh! She finds herself flying through space and time, taking tea with an astronaut, dancing on the rings of saturn and eating cake with aliens.
Eventually she slides down a rainbow and back in to bed, clutching her wonderful gift tightly in her hand. As she closes her eyes and drifts off to sleep her mother gently whispers in her ear, letting her know that her beautiful curls are a crown which she should cherish.
Written by musician VV Brown, this empowering picture book celebrates the magic of afro-textured hair. The beautiful illustrations show black women with natural hair following their dreams and smashing their goals. We see a scientist, a mountaineer, a mother, a drummer, a botanist, a weightlifter, a ballerina and even a deep sea diver! The message is loud and clear – Lily's future is in her hands and she can be anything she wants to be. All she has to do is believe in herself.
Ivy really enjoyed reading this one. Her best friend has afro hair so the story opened up a wider conversation for us, which I am always very grateful for. (It also had an unexpected side effect. Even though Ivy naturally has very straight, fine hair she hates having it combed through when it's wet. After reading this story we pretended her comb was magic and she didn't wriggle one bit!)
This book publishes in the UK on December 7th 2020 and you can pre-order a signed copy here: https://www.wokekidzshop.co.uk/product/lily-and-the-magic-comb
Disclosure: The author provided us with a copy of this book in exchange for an honest review.