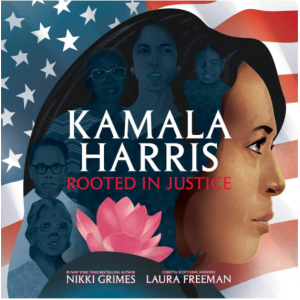 When little Eve slams the door on her return from school her Mum instantly knows that something is wrong. She listens carefully as her daughter explains that a boy in her class had laughed at her when she said she wanted to be President one day because "Girls can't be President, stupid." Her Mum sits her down and tells her a story about a girl from their own town – a girl called Kamala…
What follows is a detailed but child-friendly look at the life of Kamala Harris, the Vice President-elect of the United States. We learn about her heritage, her childhood and how the quest for justice and peace has been a part of her life since she was a baby. We follow her story as she deals with family separation, moves to a new country, graduates college and fails an important exam. Whatever the obstacles she has to face in her own life, she never stops fighting for the rights of the people around her as she edges ever closer to her dream.
Listening intently to her Mums story, young Eve learns that with hard work and determination it is possible for her to achieve great things, and she resolves to tell her classmate that his statement was very, very wrong!
This an inspiring biography which will satisfy the curiosity of children who are discovering Kamala Harris for the first time. It's beautifully written and packed with information, including a detailed timeline of the subject's life. It's aimed at children aged 5-8 and I imagine it would make a fantastic classroom resource.
We bought this one a few weeks ago but it's now showing up on retail sites as publishing in the UK in January 2021. I assume it's being updated to reflect the election results – but I might be wrong! If you want to pre-order you can do so here: https://amzn.to/38CLMjp