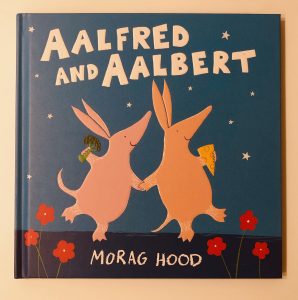 You may remember that last year we got very excited about a book called The Steves which featured two puffins arguing over the fact they share a name. Ivy loved it (and still does!) so I was over the moon to spot that the Author, Morag Hood, has just released something new.
Aalfred and Aalbert are two aardvarks who are absolutely perfect for each other but, despite being neighbours, they have never actually met. This is because Aalbert sleeps at night and Aalfred sleeps all day. Both long for companionship but don't realise that what they are looking for is right under their nose.
Unbeknown to them, a tiny blue bird has been observing their coming and goings and decides to play matchmaker. He hatches a number of elaborate plans involving alarm clocks, broccoli and balls of red string but nothing seems to work.