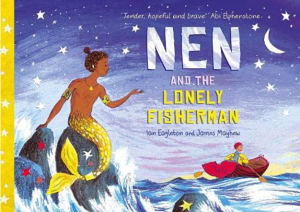 June is Pride Month in the UK – the perfect time for the publication of Nen and the Lonely Fisherman, an LGBTQ+ reimagining of The Little Mermaid.
Nen the Merman loves his ocean home but deep down he knows that something is missing. He's not quite sure what he's looking for but he starts to explore the world above the waves, singing soulfully of the yearning he feels in his heart.
One day Nen's song is heard by Ernest, a lonely fisherman, and suddenly everything clicks into place. The two quickly realise they have a very special connection and are filled with a sense of hope for the future.
Nen's father, Pelagios, isn't happy though. He thinks humans are all the same, hurting each other and polluting the oceans. Consumed with worry, Pelagios creates a furious storm which he hopes will protect his son from the heartache and danger he might encounter beyond the safety of the sea.
Ernest and his boat are caught up in the squall. Will Nen be able to save his true love before it is too late?
I am always on the lookout for new picture books with an LGBTQ+ theme as positive representation is seriously lacking. We have amassed quite a few now but I can hand on heart say this is my favourite.
Ian Eagleton and James Mayhew have created something really special here. The story is tender and filled with hope and the illustrations are warm and enticing. The love between the two protagonists bursts from the pages and Ivy was on the edge of her seat waiting to see what happens at the end!
We have an extra special Q&A with author Ian Eagleton coming up in our next newsletter (June 6th 2021)  so if you haven't subscribed already then make sure you do so by clicking here.
Buy from Bookshop.org and support independent bookshops: https://uk.bookshop.org/a/155/9781913339098
Buy from Amazon UK: https://amzn.to/3wRt4gZ
Note these are affiliate links and Ivy's Library will receive a small commission if you choose to purchase through them.
Disclosure: The publisher provided us with a copy of this book in exchange for an honest review.