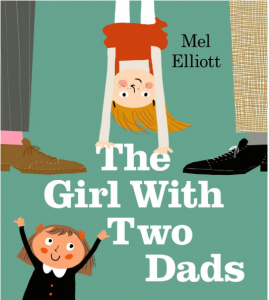 When Pearl discovers that there's going to be a new girl called Matilda in her class she gets very excited. She can't find wait to find out what she's like! She watches Matilda say goodbye to her dad and over the course of the day they become firm friends. Together they climb trees, run around the playground and jump in muddy puddles.
But then the next day Pearl spots something interesting. When Matilda's dad drops her off at school, it's a completely different dad. How can she have two dads? Confused, Pearl starts to ask her new friend lots of questions. Matilda explains that a family doesn't necessarily mean having one mum and one dad, and she has two dads who love each other.
Soon Pearl is invited around for tea and she imagines that this will be a very different experience to usual. Her own dad is lots of fun so life with two dads must be like having a constant party. She pictures a tea of cakes and sweets and a household with no rules – but when the day arrives she realises that Matilda's family isn't that different from her own after all…
This is a fantastic picture book for introducing your child to the fact that families come in lots of shapes and sizes. I love the child-like simplicity of the text and imagery and the way all of the focus is on the two children and not the adults. I also love that the girls discuss same-sex families in really simple terms which are easy for young children to grasp, and then move on to the next interesting thing which grabs their attention. Perfect!
Buy from Bookshop.org and support independent bookshops: https://uk.bookshop.org/a/155/9781405292436
Buy from Amazon UK: https://amzn.to/3cVL6Es
Note these are affiliate links and Ivy's Library will receive a small commission if you choose to purchase through them.