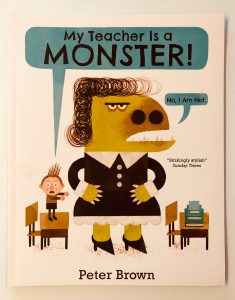 Two of my closest female friends are primary school teachers so when I spotted this I knew we had to buy it!
The story is about a little boy called Bobby who doesn't like school because he is always getting told off by his teacher, Miss Kirby. He doesn't like her and thinks she's a monster!
Then one weekend he bumps in to her when he's walking in his favourite park, and neither of them are quite sure what to do. They both feel a little awkward seeing each other outside of school. Just as it's becoming super uncomfortable a gust of wind catches Miss Kirby's favourite hat and blows it away.
Bobby manages to save the hat and in the process learns a little bit more about Miss Kirby and she learns a little bit more about him. Bobby comes to realise that she's not a monster at all. She's just a regular person – who is actually rather nice! – and just needs to be strict at school because it's her job (and because he's actually quite naughty).