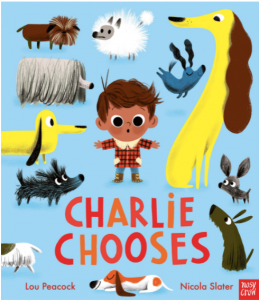 Charlie doesn't like to make decisions. How can you choose between chocolate and vanilla ice cream when both are so delicious? How can you choose between spotty or stripy underpants when both look so fabulous?
Every single day Charlie finds himself overwhelmed by choices and he finds it really hard. He worries that he will make the wrong decision and what the consequences of that might be. What if he chooses sunglasses instead of an umbrella and then it rains? What if he keeps his light on at bedtime but then he can't sleep?
All of Charlie's worries come to a head when he is asked to choose a present for his birthday. Faced with such a momentous decision he panics, but fate intervenes when a flyer about rescue dogs land on his lap at the park. However when he gets to the centre he is greeted by dozens of adorable dogs and he can only take one home! The boy knows he will never be able to choose so he turns around and sadly walks away.
Unbeknownst to him, a shaggy little pup has been watching and waiting and making some choices all of his own. He has most definitely chosen his new owner and maybe, just maybe he can help Charlie be a little bit more confident and decisive in the future.
This has been one of our most popular bedtime reads this past week. Ivy struggles with decison-making herself so the story has really struck a chord with her. The illustrations are fantastic and we've had great fun practising making choices by flipping through the pages. Ivy thinks Charlie should always opt for chocolate ice cream, spotty pants and the light off (with a nightlight!). She completley understood the dilemma with the dogs though as there are so many lovely ones to choose from!
Buy from Bookshop.org and support independent bookshops: https://uk.bookshop.org/a/155/9781788005630
Buy from Amazon UK: https://amzn.to/3gi5Slr
Note these are affiliate links and Ivy's Library will receive a small commission if you choose to purchase through them.
Disclosure: The publisher provided us with a copy of this book in exchange for an honest review.