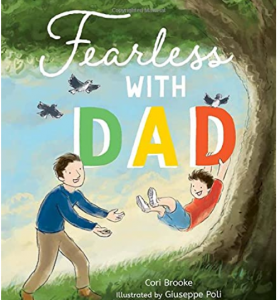 How does your Dad make you feel? With mine I always feel safe and I know he'll invariably have a sensible solution to any problem I encounter. He has the correct tool for every possible job squirrelled away in his garage and his childlike sense of adventure makes him a big hit as a Grampi!
The little boy in this gorgeous picture book has a very similar father so it really resonated with me. We follow their adventures as they build a go-kart, a tree house, a planter box and a cardboard castle. We see them pretend to be superheroes, rock stars, mechanics and farmers. We watch as they go about their days together, secure in the knowledge that they have each other's backs.
The colourful illustrations are accompanied by simple yet powerful words, which show us how the boy feels when the two are together. Their relationship is open and honest which means that they are comfortable being both silly and serious, boisterous and reflective. The love between them is so strong that it practically jumps off the page!
But the strong father-child bond isn't the only reason I love this book. The overall vibe is extremely positive and it will help build children's confidence for trying new things with their dad by their side. The phrase 'I can' is repeated 10 times across the 21 story pages – an excellent mantra indeed!
Buy from Bookshop.org and support independent bookshops: https://uk.bookshop.org/a/155/9781913639518
Buy from Amazon UK: https://amzn.to/2TGUYy4
Note these are affiliate links and Ivy's Library will receive a small commission if you choose to purchase through them.
Disclosure: The publisher provided us with a copy of this book in exchange for an honest review.