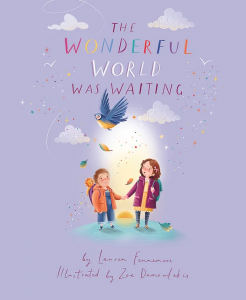 This was not the book I was planning on reviewing today. It's not even a book I was planning to review this week or even this month as I didn't know it existed until it dropped through my door about an hour ago and made me cry big, ugly, shoulder-shuddering tears. I'm choosing to write about it right now because i'm not sure i've ever responded to a picture book this strongly before, and I need to get all the words out before I forget how reading it through for the first time made me feel. I'm not sure I can do it justice – but here goes!
The last 18 months have been incredibly hard for everyone. There has been loss, loneliness, separation, sadness and hardship – but through it all there has been hope that better days are coming. At 5, Ivy is old enough to understand why so many restrictions have been placed on our lives but has still struggled with the fact that so many of the fun things have been stripped away for so long.
"Can we do it when the virus is over Mummy?" has been repeated so many times that it breaks my heart – and that is the very essence of what this book is about. What will you do when all restrictions are removed? Who will you see and where will you go? How will you feel?
'The Wonderful World Was Waiting' is the sequel to ' The Year We Muddled Through' by Lauren Fennemore  and Zoe Damoulakis and it follows a family as they start to venture back out into a post-pandemic world. We see reunions with grandparents, birthday parties with friends, and trips to the zoo and the theatre. These exciting adventures are punctuated with all the the little things that people didn't realise they would ever miss, like hugs, hair cuts, bus journeys and cocoa at their local cafe.
It's an emotional and highly relatable read, which has been sprinkled with a little bit of childhood imagination and magic. It's a wonderful keepsake for a most unusual time in our lives and I cannot recommend it highly enough – but maybe grab some tissues before you start reading it!
The book is available to buy directly from the publisher at https://www.owletpress.com/product-page/the-wonderful-world-was-waiting
Disclosure: The publisher provided us with a copy of this book in exchange for an honest review.