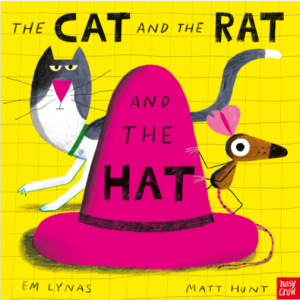 With picture books I generally find the simplest ideas have the biggest impact, and 'The Cat and the Rat and the Hat' is an absolutely perfect example of this. It's colourful, creative and uses short, sharp rhymes to great comic effect.
Cat is having a lovely snooze on his favourite mat when he sees a rat wearing a lovely big hat. The cat decides he definitely wants the hat so he chases the rat – but what happens when they encounter a bat wearing a fancy cravat? Who gets the hat? Who gets the cravat? Who will sit on the mat? Will it be Cat, Bat or Rat?
Honestly – even typing that made me laugh so you can imagine how much fun this story is to read aloud with little ones! Toddlers and pre-schoolers will love the rhythm and the cheeky, tongue-twisting humour – and if your child is in their Reception year at school (like Ivy) there's an extra level of enjoyment to be had…
Ivy was immediately drawn to the cover and wanted me to read it to her, but after the first few pages she came to a realisation –  "Mummy! I can read this myself!" – and she was right. An unusually large number of the words in the story are CVC words (consonant-vowel-consonant) and there has been a big focus on these at school. She took the book off my lap and proceeded to read the rest of the story to me. This is the first time she's been able to read a picture book from cover to cover with no help from me and she was exceptionally proud of herself.
This fabulously funny book is published on July 1st 2021 and is available to pre-order now.
Buy from Bookshop.org and support independent bookshops: https://uk.bookshop.org/a/155/9781839941566
Buy from Amazon UK: https://amzn.to/3gNrDLb
Note these are affiliate links and Ivy's Library will receive a small commission if you choose to purchase through them.
Disclosure: The publisher provided us with a copy of this book in exchange for an honest review.