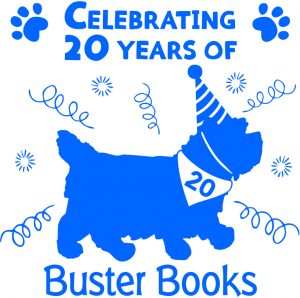 On July 8th, 2021 Buster Books will be celebrating a big birthday! Here, Publicity Manager Alice Furse looks back on the last 20 years and gives us a sneak peek at some upcoming titles.
Buster Books was founded in 2001, the children's imprint of independent and family-run publishing house, Michael O'Mara Books Limited. Since the beginning, the focus has always been publishing books that children would love to pick up and enjoy reading, and this has been the beating heart of Buster ever since – poo jokes and unicorns abound!
Early success came from spotting the unicorn craze. Where's the Unicorn? is now a classic search-and-find title and has sold just over 680k copies while the fascinating mythology and stunningly beautiful illustrations behind The Magical Unicorn Society have captured the imaginations of young readers everywhere.
Recently, Buster has moved into the world of middle-grade non-fiction and reference titles, notably working with astronomer Dr Maggie Aderin Pocock on Dr Maggie's Grand Tour of the Solar System, an enthralling and informative guide for any 8- to 11-year-olds curious about space, and with ClientEarth an environmental charity on Guardians of the Planet, which has been selected for the Reading Agency's Summer Reading Challenge this year.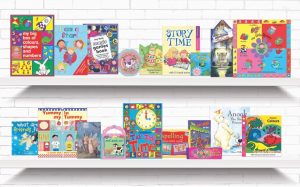 Buster brought some much-needed laughs to 2020 with A Day in the Life of a Poo, a Gnu and You, a hilarious guide to life on earth written by the legendary Mike Barfield and illustrated by cartoon whizz Jess Bradley. Exploring the human body, earth science and the animal kingdom, the book is a refreshingly funny (and educational!) take on science. Children everywhere fell in love with it and it won Blue Peter Award for Best Book with Facts, judged by kids. The massively anticipated history follow-up, A Day in the Life of a Caveman, a Queen and Everything In Between, is due out in September.
When a lot of parents grappled with home schooling during the pandemic, Buster came to the rescue with the perennially popular Bright Sparks (ages 5-7) and Clever Kids (ages 8-10) series, developed by puzzle master Dr Gareth Moore. Both series present brain teasers, maths games, logic puzzles and a whole host of other subjects in a highly-illustrated, engaging, fun style.
Here are some upcoming titles we're particularly excited about!
A Day in the Life of a Caveman, a Queen and Everything In Between: Mike Barfield and Jess Bradley, the hilarious minds behind the Blue Peter Award winning A Day in the Life of a Poo, a Gnu and You have teamed up again – this time to give a taste of the daily lives of the people, animals and objects who made history. Delving into the secret diaries of early humans as they paint mammoths on the walls of a cave, a fierce gladiator battling in the Colosseum, the first woman in space, Shakespeare's Globe Theatre, Isaac Newton's cat, the wooden panel that became the Mona Lisa and many more, it's sure to have children learning and laughing as they go!
Feeling Good About Me: A calming activity book brilliantly co-authored by a psychotherapist who specialises in children and writer Ellen Bailey, who wrote bestselling children's journal, All About Me. An essential resource for teachers and parents, this book is packed with mindful activities and prompts to encourage young readers to express their emotions, including breathing techniques, thoughtful questions, and areas to draw. It is a safe space for children to explore feelings such as low self-esteem and anxiety, with practical tips and information presented in a supportive and affirmative way. Developed in consultation with a children's mental health charity, Blue Smile, with a royalty of UK sales donated to them.
That Dinosaur Has Talent! From the best-selling author and illustrator team behind The Dinosaur Department Store, this picture book about overcoming fears, discovering your talent and the wonderful power of friendship will appeal to dinosaur-loving children everywhere! Eliza Jane lives in a town where dinosaurs and humans live happily side-by-side – raptors run restaurants, Troodons are teachers and you can even pay a visit to see a dinosaur dentist. Every dinosaur has a job to do, apart from one shy dino called Parry who always feels like he's getting in the way. Eliza Jane is determined to help him find his groove but everything poor Parry tries seems to end in disaster. Then, one night, Eliza Jane discovers that Parry has a very special hidden talent, and a star is born…
This Book is Full of Brains: Every day, kids use the ultimate supercomputer – their brain! Little House of Science takes readers on an access-all-areas tour of the body's brilliant command centre. Using fun exercises and experiments that are easy to do at home, This Book is Full of Brains is an awe-inspiring guide to this remarkable organ, from the gruesome history of neuroscience to the inner workings of animal brains.
Learn more about us and our books here
Follow us on Twitter and Instagram for our latest news and events
We also have a number of activity sheets available online for free! Download them here
Alice Furse, Publicity Manager, Buster Books