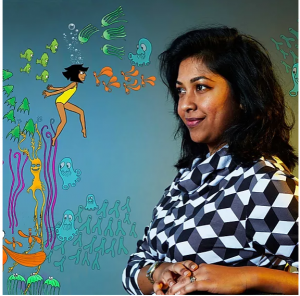 Hi Inshra! Thank you so much for chatting to me about your very first picture book 'Tiny Jumps In'.
Hello! It's a pleasure, thank you for offering the opportunity.
Can you tell us a little bit about yourself?
I'm a multi-platform content creator, a working mum and illustrator for hire. I grew up in Dhaka, Bangladesh and have been living in London over 10 years with my husband, 3.5-year-old son and a little dumpling growing in my belly.
In my case the platforms are illustration, design, photography and filmmaking, and content is children's books, flashcards and posters, music videos, stop motion animations and short films.