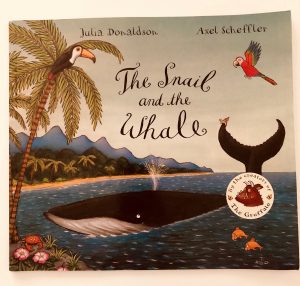 The Snail And The Whale is one of our favourite collaborations between Julia Donaldson and Axel Scheffler. There's a real sense of adventure but the rhyme is also very calming so it's perfect for bedtime.
The story is about a little snail who longs to travel – but her family thinks she's a little crazy and don't understand at all! She's determined to see the world so she hitches a lift on the tail of a humpback whale. On their magnificent journey the snail sees icebergs and volcanoes, beautiful beaches and strange animals. She is amazed at how big the world is and this makes her feel small and insignificant.
Then one day the whale encounters some speedboats and becomes disorientated. He swims too close to the shore and finds himself stuck on the beach. The snail realises that she is the only one who can save the whale, but she's so tiny. What could she possibly do to move this majestic creature?
This is a fantastic story about following your dreams, even when those around you don't believe in them. It also shows your child that no matter how small you are (or feel) you are important and can make a big difference to those around you.
Buy it now: https://amzn.to/2MNSh8M