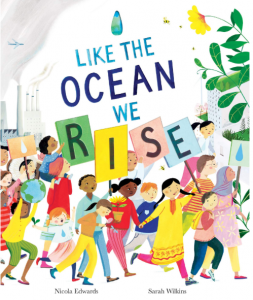 This mesemerising, rhyming picture book examines the devastating effect that climate change is having on our planet and asks childen to consider how they might be able to play their part in preserving our future.
In the Arctic, ice is melting. In Queensland, the coral reefs are being bleached white. In the rainforest, trees are being chopped down. In Uganda, the earth is parched from lack of rain. But what can we do? We are so small so how can one person's actions possibly change the world?
The answer is to rise like the ocean. Each of us is just a raindrop but even raindrops cause a ripple when they land. With enough momentum, ripples can grow in to waves and waves can create real, lasting change.
The book shows us how people around the world are rising up and make a difference. We see young people speaking out, taking part in marches, planting flowers and showing kindness to each other. Children of all races and religions are featured on these pages and it's wonderful to see those with disabilities represented too.
The illustrations are detailed and inclusive and I love the fact that every spread features cut out raindrops which offer a sneak peak of what is to come. There is also a very useful section at the back whch is designed to stimulate further conversation and get children thinking about their place in the world.
Buy it now: https://amzn.to/30aqN1D
Disclosure: The publisher provided us with a copy of this book in exchange for an honest review.