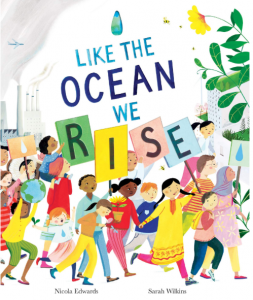 This mesemerising, rhyming picture book examines the devastating effect that climate change is having on our planet and asks childen to consider how they might be able to play their part in preserving our future.
In the Arctic, ice is melting. In Queensland, the coral reefs are being bleached white. In the rainforest, trees are being chopped down. In Uganda, the earth is parched from lack of rain. But what can we do? We are so small so how can one person's actions possibly change the world?
The answer is to rise like the ocean. Each of us is just a raindrop but even raindrops cause a ripple when they land. With enough momentum, ripples can grow in to waves and waves can create real, lasting change.