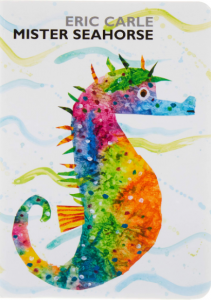 Seahorses are special because, unlike most animals, it is the male of the species which gets pregnant. When it's time to mate he puffs out his tummy and the female lays her eggs in a little pouch where they are then fertilised. He carries the eggs until the baby seahorses are ready to be born.
This beautiful board book follows Mister Seahorse from conception to birth as he meets a whole host of other sea creatures who are preparing for the arrival of their own little ones. As we follow his journey we discover that he is not unique and that many other male fish go to great lengths to keep their young safe.
Mr. Stickleback builds a nest for Mrs. Sticklebacks eggs and then hovers over it, protecting them. Mr. Tilapia carefully carries eggs in his mouth so they are safe from predators. Mrs. Kurtus lays her eggs on Mr. Kurtus' head and he carries them there until they are ready to hatch. Mr Pipe has a line of eggs running right along his belly and Mr. Bullhead is the primary carer of his brood once they are welcomed in to the world.
The pages are bright and colourful and there are cut out 'peekaboo' sections which encourage you to search for fish hidden amongst the reeds and weeds of the seabed.
This is a beautiful book, illustrated in Eric Carle's trademark style, which teaches children about the strong bond between father and child.
Buy from Bookshop.org and support independent bookshops: https://uk.bookshop.org/a/155/9780140569896
Buy from Amazon UK: https://amzn.to/2zw4Lxb
Note these are affiliate links and Ivy's Library will receive a small commission if you choose to purchase through them.