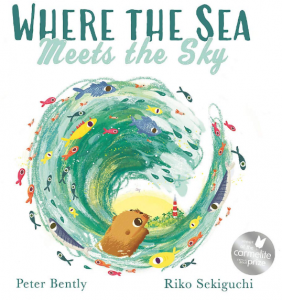 When Sophie the baby sea otter learns about the horizon she is determined to swim all the way there. Her Mum warns her it's impossible but Sophie thinks it doesn't look that far, so she sneaks off on an epic journey.
On her travels she finds a magnificent lighthouse, befriends a walrus, meets a whale and dives deep under the water to swim with colourful tropical fish – but no matter how far she travels that pesky horizon eludes her.
As night falls Sophie realises that perhaps her Mum was right. Tired and alone, she bristles with fear when she spots a mighty ship heading in her direction. She has swum so far, how will she ever make it home?
Peter Bently's charming lyrical adventure is an absolute pleasure to read aloud. There's a real sense of mischief but ultimately the brave little otter learns a valuable lesson – sometimes Mum really does know best! She also discovers the power of unconditional love when, despite the fact she's been a bit naughty, her Mum travels far and wide to find her and bring her home safely.
The illustrations are truly stunning and it's hard to believe this is Riko Sekiguchi's first picture book. The swirling seascapes and delightful characters bring the whole story to life. I am excited to see what she does next!
Buy it now: https://amzn.to/2ZQmOc2
Disclosure: The publisher provided us with a copy of this book in exchange for an honest review.