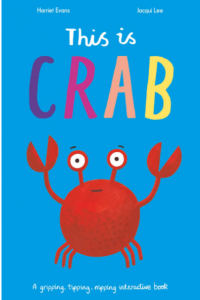 Ivy loves books which require a little bit of audience participation and this is one of her current favourites!
At the start of the story we join Crab as he sets off on an adventure across the ocean floor. He needs some gentle coaxing and some assistance along the way though. Can your child help?
There is arm waving, finger tapping, book shaking, counting, tickling and lots, lots more. At one point crab even gets lost and you need to lift the flaps to find him!
This is such an entertaining book and Ivy returns to it again and again. The brightly coloured illustrations are wonderful and we spot new details every time we read it. It's a great way of introducing kids to life on the sea bed and Crab encounters lots of different creatures which are fun to identify, including an octopus, sea turtles and clown fish. Ivy was also fascinated to discover that crabs shed their shells in the same way that snakes shed their skin!
If you like this one then there are two others in the series – This is Frog and This is Owl.
Buy it now: https://amzn.to/3j7R4oE
Disclosure: The publisher provided us with a copy of this book in exchange for an honest review.