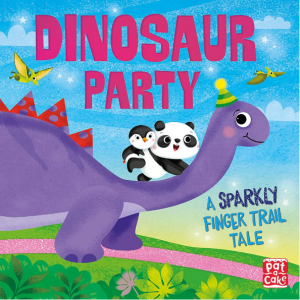 This sparkly board book from Pat-a-Cake is perfect for helping toddlers develop fine motor skills, especially those who love dinosaurs!
Panda and Penguin are off on an adventure. They need to get to Dinosaur Town in time for a party but they have a long way to go. They huff and puff their way up a steep hill and over a spiky track – but when they get to the top they discover a great big grinning dinosaur face. It turns out they haven't been climbing a hill at all, instead they have scaled the back of a giant dinosaur! Fortunately he's very friendly – perhaps he will offer them a lift to the party on his back?
With bumpy finger trails to follow on every page and little cut out sections to explore, this is a feast for dinosaur-loving kids aged 2+. Ivy loves the adorable illustrations and enjoys spotting the little baby dinosaurs which are dotted throughout the book.
Buy it now: https://amzn.to/3feXscO
Disclosure: The publisher provided us with a copy of this book in exchange for an honest review.