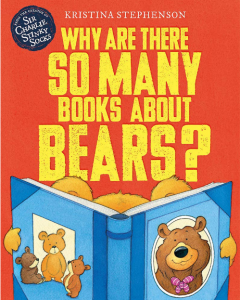 I love a book which isn't afraid to ask the big questions, and this book asks the biggest of them all – why on earth are there so many books about bears? The rather genius story brings together some of the greatest animal minds in the world to try and come up with an answer.
The 'summit' takes place in the hallowed hall at Mollusc College in Oxford and is attended by William Snakespeare (a snake), Albert Swinestein (a pig), some PhDs (porcupines, hedgehogs and dragons with spines), Newton (a newt), Mary Shelley (a snail) and Trevor (an unassuming little mouse).
Many theories are put forward. Is it because 'bear' rhymes with so many good words? Is it because bears come in a handy variety of sizes? Or could it be because, with clothes on, bears look a lot like people?
The group of experts go round and round in circles and become increasingly agitated by an unseen animal who keeps knocking on the door and trying to serve them tea and cake!
Just as they start to lose their tempers, little Trevor the mouse steps forward. Could this quiet little fellow have figured out the answer to the impossible question, and might it have something to do with the tea trolley outside?
As you've probably gathered, I am a huge fan of children's books. However these days it's rare that I pick one up and find myself genuinely excited to find out the outcome of the story. I was so sucked in by this book that I found myself holding my breath before turning the page to reveal the answer!
Ivy loves it and it prompted her to do a little inventory of our shelves to see how many books about bears we own (answer – far too many!). It's a really engaging story and I love that as she gets older she will get more and more out of it. The clever animal names (like Snakespeare and Swinestein) currently go over her head but some point soon she'll have a light bulb moment and will enjoy the book on a whole new level!
Buy it now: https://amzn.to/2wzQGJL
Disclosure: The publisher provided us with a copy of this book in exchange for an honest review.