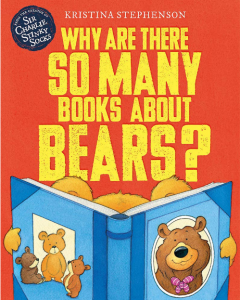 I love a book which isn't afraid to ask the big questions, and this book asks the biggest of them all – why on earth are there so many books about bears? The rather genius story brings together some of the greatest animal minds in the world to try and come up with an answer.
The 'summit' takes place in the hallowed hall at Mollusc College in Oxford and is attended by William Snakespeare (a snake), Albert Swinestein (a pig), some PhDs (porcupines, hedgehogs and dragons with spines), Newton (a newt), Mary Shelley (a snail) and Trevor (an unassuming little mouse).
Many theories are put forward. Is it because 'bear' rhymes with so many good words? Is it because bears come in a handy variety of sizes? Or could it be because, with clothes on, bears look a lot like people?