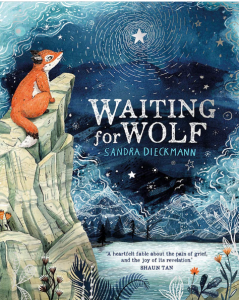 This stunning picture book helps children understand their grief after a bereavement and teaches them that, although sometimes difficult, life will go on.
Fox and Wolf are the best of friends and do everything together. They laugh, they talk, they swim and explore. Life is beautiful when they are in each others company. But then one evening, as the sun sets and the stars come out, the old Wolf wraps a paw around Fox's shoulder and tells him that tomorrow he will be starlight.
The next day Fox heads to Wolf's den to play, excited to see if he is shiny like a star, but Wolf isn't there. Fox searches all day but cannot find his friend so he heads up in to the mountains and pulls the stars down from the sky. He wraps them around himself like a blanket, but still Wolf does not come.
Fox is overcome with sadness and realises that Wolf will not be coming back, but as tears roll down her cheeks something wonderful happens…
I'm not ashamed to admit that I cried when I first read this book. It is incredibly poignant and the illustrations are so wonderful that Fox's emotions seem to almost seep off the page. It doesn't shy away from the pain of grief, but ultimately the story is uplifting and shows how it is possible to lift yourself up and carry on.
Buy from Bookshop.org and support independent bookshops: https://uk.bookshop.org/a/155/9781444946598
Buy from Amazon UK: https://amzn.to/2ZzpkU7
Note these are affiliate links and Ivy's Library will receive a small commission if you choose to purchase through them.
Disclosure: The publisher provided us with a copy of this book in exchange for an honest review.