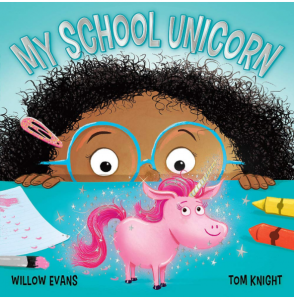 Evie is a little apprehensive about starting school. Every time she thinks about it she gets a wobbly feeling in her tummy and feels a tiny bit sick. When her Dad takes her shopping for her new school uniform she drags her feet, but the expedition turns out to be a little bit more magical than she expected!
Madam Lexi's Uniform Emporium is packed full of blazers, ties, sports kit and everything else a child might need for their first term, but if you look closely at the owner you'll spot that she is a little bit special. A ittle cloud of twinkling stars seem to follow her wherever she goes…
Evie nervously tries on her uniform and her dad is pleased to see that everything fits, but when he's not looking Madam Lexi leans forward and whispers in to her ear. Evie blinks with confusion. The lady mentioned her 'School Unicorn' but surely she meant 'School Uniform'? But then the pocket of Evie's cardigan starts to wiggle!
Inside she finds a teeny-tiny sparkly unicorn called Bobby. Madam Lexi explains that whenever she feels worried Bobby will be there to help her feel brave. As she snuggles her new friend her nerves start to slip away but will it be enough to get her through her first day at school?
It's safe to say this one has been a big hit with Ivy! She loved the idea of having a tiny unicorn in your pocket and was excited to discover that there are instructions at the back of the book to help her make one of her very own.
It's a great story for school starters as it addresses some of the common worries children have and reassures them that they are not the only ones to feel this way. Despite her nerves, Evie really enjoys her first week at school and the latter half of the story highlights how much fun they will have playing with their new friends and learning new things.
Buy from Bookshop.org and support independent bookshops: https://uk.bookshop.org/a/155/9781444956429
Buy from Amazon UK: https://amzn.to/2ECdD6K
Disclosure: The publisher provided us with a copy of this book in exchange for an honest review.