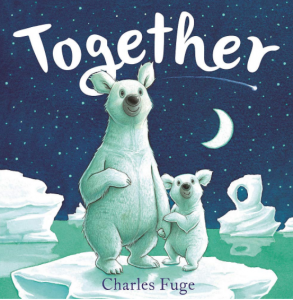 If you have been searching for the perfect snuggly bedtime book then you can stop now as I have found it! This beautiful story feels like an enormous hug.
In a vast landscape of ice and snow a polar bear and cub find warmth and comfort in each others company.  We watch as they explore their surroundings, battle snowstorms and find joy in small things. They dream of faraway lands, gaze at the stars in the night sky and master new skills. Life in the snow may be tough at times but they know they will never be lonely as they have each other.
Written in gentle, reassuring rhyme this story celebrates love and kindness. The icy tones of the illustrations are really calming and the bears are depictied beautifully. I find myself drawn to the depth of love you can see in their eyes as they live their lives peacefully side by side.
No mention is made of the gender of the bears, or the specific relationship between them, which gives it wide appeal. The older bear could represent a mother, a father, an older sibling, a grandparent or indeed any other caregiver who is important in a child's life.
It's definitely one to bear in mind as a Christmas gift, or as part of a December Book Advent, because of its lovely wintry feel.
Buy from Bookshop.org and support independent bookshops: https://uk.bookshop.org/a/155/9781444948127
Buy from Amazon UK: https://amzn.to/2U9o5H6
Note these are affiliate links and Ivys Library receives a small commission if you choose to purchase through them.
Disclosure: The publisher provided us with a copy of this book in exchange for an honest review.