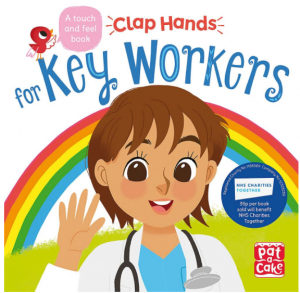 The events of 2020 have definitely highlighted the critical role which keys workers play in our society. This gorgeous little touch-and-feel board book celebrates the part they play in keeping us safe and well.
Each double page spread introduces us to a different key worker and encourages your child to talk about what they are doing. Harriet the doctor is bandaging a child's leg. Jay the shop worker is working the tills at the supermarket. Ruby the postal worker is delivering parcels. Logan the bus driver is helping people get around the town. Once you've talked about the role each worker plays, your child is invited to clap for them and say thank you for their hard work.
There are textured portions throughout the book for your child to explore – including a fluffy bandage, some shiny apples and a smooth backpack – and the final pages introduce us to some more key workers in the form of a game. Can your child match the teacher, paramedic, police officer, nurse, waste collector, firefighter and farmer to the objects they use every day in their jobs?
Featuring a cast of diverse characters, this is a lovely way to introduce different job roles to small children whilst highlighting the benefits of helping others in the community. And as an added bonus – 35p from the sale of each book will be donated to NHS Charities Together.
Buy it now: https://amzn.to/32UjspC
Disclosure: The publisher provided us with a copy of this book in exchange for an honest review.