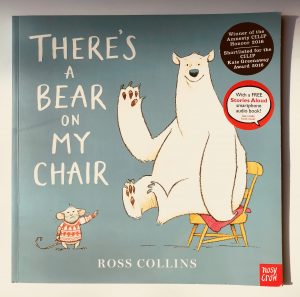 We love this hilarious book by Ross Collins.
A little mouse in an adorable little jumper is absolutely furious to discover a polar bear sitting in his favourite chair. He tries everything he can think of to get the bear to move but he just keeps on sitting on that chair without a care in the world.
Finally the little mouse loses his patience and flips out. Will the bear pay attention?
The illustrations here are fantastic. I love the various stages of annoyance on the little mouse's face and the nonchalance of the bear.
Ivy thinks it's funny to press her hands against the pages and try to push the bear off the chair herself!
Buy it now: http://amzn.to/2FVBWIF