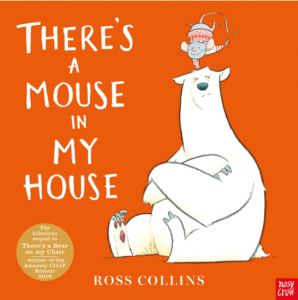 Have you read 'There's A Bear On My Chair' by Ross Collins? It's been a firm favourite in our house for years and was one of the books I reviewed way back in the early days of Ivy's Library.
Now the cheeky duo are back and the tables have been turned. In the first book, Mouse was extremely annoyed at Bear for sitting in his chair and refusing to move. This time it's Bear's turn to feel the frustration because Mouse has taken up residence in his house and is driving him crazy!
Poor Bear. All he wants to do is relax in his own home but Mouse just won't go away and his hobbies are a little extreme. From practising Taekwondo and pretending to be a pirate through to blasting out soft rock and eating the contents of the fridge, Mouse is not a good house guest at all.
Just when Bear thinks he can take no more, there is a knock at the door. Is this the answer to his prayers or a whole new level of pain? You'll have to read the book to find out!
This really is a joy to read aloud. The rhyme is tight and the story is smart, acerbic and very, very funny.
As with the first book, Ivy and I love the brightly-coloured illustrations and the wonderfully expressive faces. Bear starts the story looking mildly irritated but slowly becomes more world-weary and resigned to his fate – whilst Mouse is a picture of cheery smugness.
Highly recommended if you're looking to inject some humour in to your child's bookshelf!
Buy from Bookshop.org and support independent bookshops: https://uk.bookshop.org/a/155/9781788008259
Buy from Amazon UK: https://amzn.to/2GgY2dp
Note these are affiliate links and Ivy's Library will receive a small commission if you choose to purchase through them.
Disclosure: The publisher provided us with a copy of this book in exchange for an honest review.