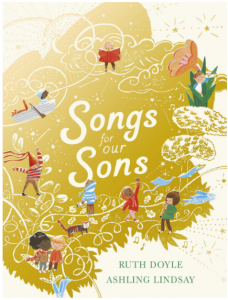 "So get ready for life, planet earth has been waiting, For the gift that is you and the hope you're creating."
Oh my goodness. Where do I start? Reading this book made my heart soar! Written in beautiful rhyme, it explores the joy a boy's life can hold and encourages them to look to the future and the difference they can make to the world.
Will they be a showman, a sculptor, a nature explorer, a scientist? It doesn't matter as long as they are always true to their own unique selves.
The message is loud and clear on every page – Embrace your emotions. Honour your heart. Never try to change yourself to suit others. Use words and ideas to solve life's problems. Be kind. Don't judge. Breathe.
The illustrations are beautiful and every page exudes a feeling of hope and wonder. A diverse group of children are pictured doing familar, everyday things but when taken as a whole you can see how each small act of kindness, courage and individuality helps make the world a better place. Our favourite spread shows hundreds of tiny children holding hands to create an unbreakable human chain. Gorgeous!
This book would be great for building confidence and a sense of self-worth in a small boy and it makes a great gift for a baby shower or birth.
Although the focus of the book is boys, please don't discount it from a girls' bookshelf. Ivy has really enjoyed reading this and it's been a great tool for kick-starting conversations about how boys and girls are often treated differently. There is also a companion book by the same team  – Dreams For Our Daughters – which we don't have yet but I will definitely be buying!
Buy from Bookshop.org and support independent bookshops: https://uk.bookshop.org/a/155/9781783448500
Buy from Amazon UK: https://amzn.to/2G2pJXQ
Note these are affiliate links and Ivy's Library will receive a small commission if you choose to purchase through them.
Disclosure: The publisher provided us with a copy of this book in exchange for an honest review.