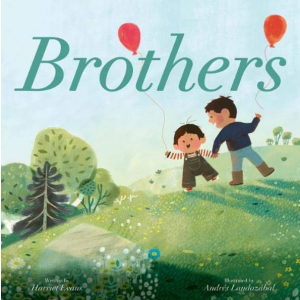 This lovely little hardback celebrates the brilliance of brothers big and small.
The gentle rhyme and wonderfully diverse illustrations give us a detailed look at what the world is like with a brother at your side.  They are playmates and mentors, mess-makers and occasional tormentors but whatever you face in life you know that your brother will always be by your side.
We see that all families are different and a brother doesn't just mean someone with whom you share both parents. Half-brothers and step-brothers are equally special and even our friends can become like brothers to us. The bond between siblings is strong and you will always be there for each other, whether you are near or far.
This would make a gorgeous gift for any child who is expecting a baby brother and I think it might also come in handy when mediating between slightly older siblings to remind them that they do love each other really!
It's worth noting that the same author/illustrator team have released a book called 'Sisters' which is equally fabulous. You can read the review of that one here.
Buy it now: https://amzn.to/2RCaJBU
Disclosure: The publisher provided us with a copy of this book in exchange for an honest review.