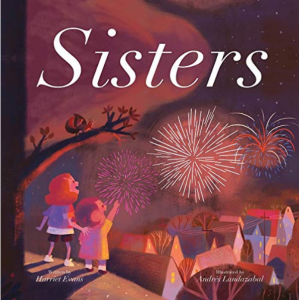 This gorgeous little hardback book celebrates the joy of having a sister.
The gentle rhyme takes us on a journey through siblinghood, highlighting all of the ups and downs. They may steal your toys, make you cry and drive you a little crazy at times but a sister will always be there for you through thick and thin. They will brighten you up on dark days, share your adventures and celebrate your successes.
The simple but heartwarming illustrations show siblings from different countries and cultures as they move through life together. It also references how friends can become like sisters because of all the experiences you have shared together.
This would make a lovely present for any child who has recently taken delivery of a baby sister – but i'd also be happy gifting it to some of my closest female friends!
It's worth noting that the same author/illustrator team have released a book called 'Brothers' which is equally fabulous. You can read the review here.
Buy from Bookshop.org and support independent bookshops: https://uk.bookshop.org/a/155/9781848579460
Buy from Amazon UK: https://amzn.to/37n5CNi
Note these are affiliate links and Ivy's Library will receive a small commission if you choose to purchase through them.
Disclosure: The publisher provided us with a copy of this book in exchange for an honest review.