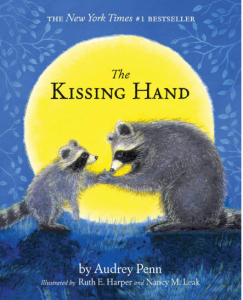 Chester the raccoon doesn't want to go to school. He wants to stay safe at home with his mummy and his toys and books. Mrs. Raccoon draws him close to her and explains gently that sometimes we have to do things which seem a little big and scary. Although school might seem strange at first she is confident that he will grow to love it. He will make new friends, play with new toys, read new books and learn exciting new things.
Chester is unconvinced so she lets him in on a little secret – The Kissing Hand. She takes his hand, spreads out his fingers and plants a big kiss on his palm. He feels the warmth run right up his arm and straight to his heart. His mum tells him that every time he feels scared or lonely he just has to press that special spot on his hand and he will immediately be able to feel her love all around him.
Soon the first day of school arrives. Will Chester be able to overcome his fears and start this new chapter in his life?
First published in 1993, this is a beautiful story designed to comfort those who are anxious about being separated from their loved ones. Although the scenario here is starting school, the technique can be used in a variety of situations from something simple like a school trip through to bigger life changes like a child entering foster care or the death of a family member.
On a personal note, we have found this book very useful as a family. When Ivy experienced a period of separation anxiety at nursery we drew hearts on our palms each day and kissed them which really helped her feel better about being apart.
Buy it now: https://amzn.to/3f0KpuK