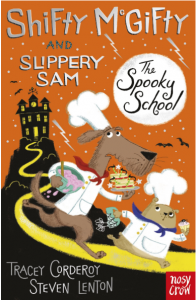 We are massive fans of the Shifty McGifty and Slippery Sam picture books so we were very excited to discover that there are chapter books too!
Shifty and Sam are two loveable dogs who used to live a life of crime. These days they are reformed characters who have swapped robbing banks for baking cakes and catching bad guys. In 'The Spooky School' they use their skills to solve a series of wacky mysteries.
Each of the books is divided in to three stories and each story has four short chapters which makes them perfect for bedtime reading. We'll usually read two chapters per night but if Ivy is particularly tired we'll drop this down to just one.
The stories in this volume are:
The Spooky School: Shifty and Sam visit St. Spectre's School on a stormy night to help the pupils bake Halloween treats for a midnight feast. When lightning strikes an old oak tree in the school grounds, the two brave dogs find themselves on the hunt for a mysterious ghost – but is it real or just legend?
The Wacky Weather Week: When a series of bizarre  events threaten the supply of fruit for Shifty and Sam's cakes, they are determined to find out what is going on. They soon discover a power-hungry red panda who has created a device which controls the weather.  Can they stop him before it's too late?
Trouble at the Museum: Shifty and Sam are on location at their local museum, selling delicious pastries from their trusty van 'The Bakemobile' – but when they spot some sneaky looking raccoons dressed as workmen they start to suspect they are up to no good…
These stories are fast paced and really well written. They're easy for Ivy to keep up with but at the same time they've introduced her to lots of new vocabulary which is fantastic.
Steven Lenton's gorgeous illustrations feature throughout, and if you have read the original picture books you'll be pleased to hear that the sneaky little spider still appears throughout the book. Ivy loves trying to spot him!
There have been four chapter books released so far  – The Spooky School, Up, Up and Away!, The Aliens are Coming! and Jingle Bells – and we really hope there are more in the works!
Buy it now: https://amzn.to/30eKnej