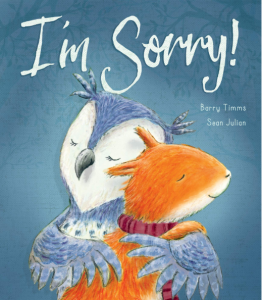 Scribble and Swoop are the best of friends and they love spending time together, having fun and pursuing their hobbies. Scribble enjoys writing and performing plays, whilst Swoop likes to build things with scraps of wood.
When the pair decide to set up home together they are very excited. They unpack their belongings and then sit in in the shade on their beautiful new veranda. As they sit quietly in the cool breeze, they each have a thought. Scribble thinks that the veranda would be the perfect setting for his plays, whilst Swoop is dreaming of turning it in to a workshop.
The next morning there's a terrible squabble as the two friends argue over how they should use the space. Shouting ensues and they each stomp off in a huff.
Ever the wordsmith, Scribble tries to find the perfect word to make the whole situation disappear – but when he yells "SORRY" in Swoop's direction it simply doesn't work. He quickly discovers that saying sorry only works when you mean it, so what can the two freinds do to get back on track?
This sensitive and beautifully illustrated story is fantastic for teaching children about the importance of meaningful apologies. The key theme here is friendship, but it also encourages kids to share, compromise and talk about their feelings.
Buy from Bookshop.org and support independent bookshops: https://uk.bookshop.org/a/155/9781788815888
Buy from Amazon UK: https://amzn.to/2X5vglw
Note these are affiliate links and Ivy's Library will receive a small commission if you choose to purchase through them.
Disclosure: The publisher provided us with a copy of this book in exchange for an honest review.