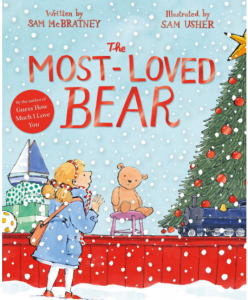 Do you ever read a book to your child and find that the emotion in the story catches you by surprise? The first time I read 'The Most-Loved Bear' I found myself struggling to hold back the tears as it really struck a chord with me. It's absolutely beautiful!
A long time ago a little girl called Mary Rose buys a bear for sixpence from her local toyshop. She names him Growly Bear because he makes a little growling noise when you tip him upside down. Her Mother embroiders the letters 'G' and 'B' on to his paws and together the little girl and her much-loved bear have many adventures. Until one day she leaves him on a train…
Growly Bear ends up in the Lost Property Office and when he isn't claimed he is sold to a little boy called Ronnie who loves him just as much as Mary Rose did. They play together for many years until the boy is too old for toys. The bear is donated to a second-hand shop to make room for Ronnie's new hobbies.
The cycle continues and through the years we see Bear being loved by a host of children who each find something new and exciting about him. Eventually he finds himself displayed in an antique shop where one magical Christmas Eve an old lady spots him and recognises the embroidered letters on his paws. Could this be Mary Rose, Growly Bear's very first friend?
This is such an enchanting story and I was bowled over by how much it touched both myself and Ivy. The ending makes her bounce up and down with excitement, and it reduces me to a puddle of tears! I love the idea of one small toy bringing so much joy to so many children and the fact that he is reunited with his original owner is so lovely.
Although this book has a snowy cover and the final pages take place on Christmas Eve it's definitely not a seasonal story. We read this one all year round and it's a story that Ivy keeps coming back to.
Buy from Bookshop.org and support independent bookshops: https://uk.bookshop.org/a/155/9781509854301
Buy from Amazon UK: https://amzn.to/2JbkgiP
Note these are affiliate links and Ivy's Library receives a small commission if you choose to purchase through them.