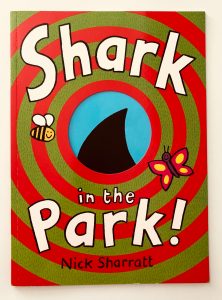 Timothy Pope has a new telescope and he's taken it to the park to play. The park is nice and tranquil – there are birds in the trees, ducks on the pond and children playing happily. Yet, each time Timothy takes a peek down his telescope he shrieks in surprise as he can see a shark!
The clever paper cut outs let you see the 'shark fin' each time and then when you turn the page you can see what it really is.  A cat's ear, a birds wing and even a hair quiff can all look like a shark down the lens of Timothy's telescope. It's definitely Timothy's eyes playing tricks on him because there can't really be a shark in the park. Can there?
The repetitive nature of this book – and the little visual surprises – make it perfect for reading aloud to toddlers. We've now read it so many times that Ivy can anticipate what's coming next and can recite part of the rhyme!
The illustrations are really eye-catching and colourful. Once we've finished reading it Ivy likes to go back through, pointing out everything she can spot in the park.
We have the paperback version but there's also a more robust board book which might be better suited to smaller children, who won't be able to resist poking their fingers through the holes!
Buy it now: https://amzn.to/2oxqJa3