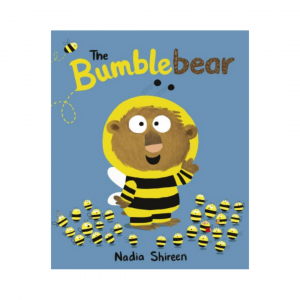 Norman the bear loves honey. In fact, he loves it so much that he wishes he was a bee. Why? Because bees have 24/7 access to honey!
One day, Norman hatches a cunning plan. He pops on a giant bee costume and enrols himself at bee school. Naturally they are confused by the fact he's much bigger than a normal bee but when he explains that he comes from Giant Bee Land they let him in. He throws himself in to his classes and very soon he can buzz, find smelly flowers and do a waggly dance just like all the other bees.
All of the bees love Norman but there is one bee who is a tiny bit suspicious. Determined to catch him out, she takes him to the honey stores to see his reaction -and that's when it all starts to go wrong. Faced with jars and jars of honey, Norman just can't help himself. He throws off his bee suit and eats it all up!