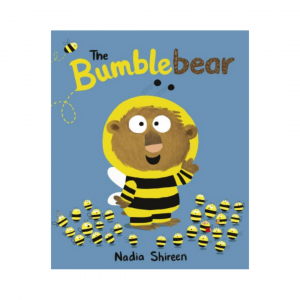 Norman the bear loves honey. In fact, he loves it so much that he wishes he was a bee. Why? Because bees have 24/7 access to honey!
One day, Norman hatches a cunning plan. He pops on a giant bee costume and enrols himself at bee school. Naturally they are confused by the fact he's much bigger than a normal bee but when he explains that he comes from Giant Bee Land they let him in. He throws himself in to his classes and very soon he can buzz, find smelly flowers and do a waggly dance just like all the other bees.
All of the bees love Norman but there is one bee who is a tiny bit suspicious. Determined to catch him out, she takes him to the honey stores to see his reaction -and that's when it all starts to go wrong. Faced with jars and jars of honey, Norman just can't help himself. He throws off his bee suit and eats it all up!
The other bees discover his deception and poor Norman is expelled. Can he win his way back in to hearts of the bee community or is this the end of all his honey-based dreams? When a rogue bear threatens the school, Norman jumps at the chance to make amends…
When we first bought this book at the end of last year I think I must easily have read it 10 times a day! Ivy loves the story and we spend a lot of time looking at the illustrations. She is fascinated by the fact the bees are all the same but also slightly different. There is one in a woolly hat which she likes to watch out for!
Now aged 3, Ivy is starting to use the terms 'goodies' and baddies' in relation to the characters she see on TV or in books. This story is great for showing that often things aren't quite that clear cut and it's sparked some interesting conversations.
Buy from Bookshop.org and support independent bookshops: https://uk.bookshop.org/a/155/9781780080154
Buy from Amazon UK: https://amzn.to/2OwKDhC
Note these are affiliate links and Ivy's Library will receive a small commission if you choose to purchase through them.