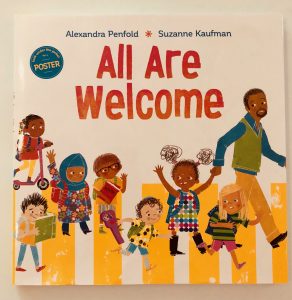 All Are Welcome by Alexandra Penfold & Suzanne Kaufman is a fantastic book about diversity and inclusion which can hold Ivy's attention for ages as the illustrations are super detailed!
The simple story follows a class of children as they go about their day. We see them arrive at class, go through their lessons, eat their lunch, have story time, play in the playground, get picked up by their parents and then go home for dinner before being tucked up in bed. It's a very normal day for the average child.
What is wonderful is that each of the 30 children in the class is different and we see those differences celebrated throughout the book and reinforced with the regular refrain that 'All are welcome here'.
The children have different skin colours, hair types and clothing. Some wear headscarves and other religious head coverings. Some have glasses, some have teeth missing, some are tall and some are small. One child is in a wheelchair and another has special glasses and a stick.
This means your child should be able to find someone on these pages who looks like them. We spent some time finding an 'Ivy' in the pictures and now we play 'Find Ivy' every time we read it.
The parents who drop off the children and arrive at the school gates at the end of the day are equally diverse. They also include single parents, mixed race parents and same sex parents.
The inside of the dust jacket on the hardback version is a lovely poster featuring all 30 children and would make a lovely addition to a classroom (as would the book itself!).
Buy from Bookshop.org and support independent bookshops: https://uk.bookshop.org/a/155/9781526604071
Buy from Amazon UK: https://amzn.to/2NB6jrn
Note these are affiliate links and Ivy's Library will receive a small commission if you choose to purchase through them.