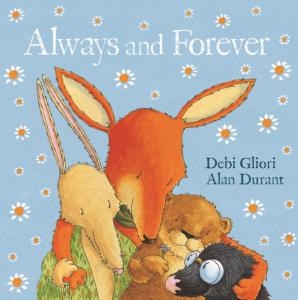 It's an unfortunate fact that I get a lot of messages from parents and teachers seeking children's book about bereavement. This wonderful story by Alan Durant is the one I recommend most often as it is warm and reassuring.
Otter, Mole, Fox and Hare all live together in a wonderful treehouse. They are a busy little family, with Fox acting as a kind of father figure to the group. Life is good, until one day Fox falls ill and goes out in to the woods on his own. His friends find him under an old oak tree, still and cold, and know that he has gone forever. They bury him in his favourite place and then fall in to a deep sadness. Without Fox they can find no reason to smile.
But then one afternoon Squirrel visits them and life starts to change for the better. Over dinner, he encourages the animals to talk about Fox. Soon they are sharing stories and laughing at the fact that Fox was a terrible cook with a habit for burning pies. The friends realise that Fox will always be with them because of all the happy memories they have of him and the positive ways in whch he impacted their lives.
The story ends with each animal choosing a way in which they can honour Fox's memory. Hare plants a garden, Mole builds a bench and Otter vows to bake a pie (without burning it!) every month. Together they take baby steps towards starting the rest of their lives.
Beautifully illustrated and gently written, this is a fantastic book to help small children come to terms with a loss.
Buy from Bookshop.org and support independent bookshops: https://uk.bookshop.org/a/155/9780552567657
Buy from Amazon UK: https://amzn.to/3bOdV55
Note these are affiliate links and Ivy's Library will receive a small commission if you choose to purchase through them.