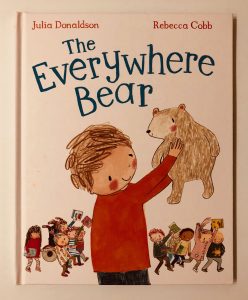 The Everywhere Bear belongs to Class One. During the week he sits on a shelf in Mrs MacAllister's classroom and observes all of his friends as they learn their lessons and listen to stories. At the weekends he goes home with one of the children for an adventure and on Monday they come back and tell the rest of the class what they have done. He lives an exciting life!
One rainy Monday morning he is travelling back to school after a lovely weekend with a new boy called Matt when suddenly he falls out of Matt's backpack and is washed down a drain. The Everywhere Bear is about to have his biggest adventure yet!
He ends up in the sea, gets caught in a fisherman's net, is delivered to a fish shop, thrown in the bin and then stolen by a seagull – but will he ever end up back with his friends in Class One?
We think this is one of Julia Donaldson's best books, despite being one of her lesser known works. There's a real sense of peril which Ivy loves and she claps wildly at the library scene at the end.
If you've been following us for a while you'll know that Rebecca Cobb is our absolute favourite illustrator which gives this book another big tick from us. We love the cheeky-faced children in Class One and her beautiful images bring the whole story to life.
Buy it now: https://amzn.to/2yjIKxH