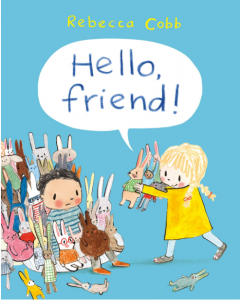 If your child has recently started nursery, pre-school or reception then they're inevitably in the process of navigating new friendships. This beautifully-illustrated book by Rebecca Cobb follows a child's journey to securing a new friend.
The main character in this story is an extremely enthusiastic little girl who very much wants to be buddies with a boy in her class. She loves spending time with him and she tells us about all the things they do together. They play, build towers, share lunch, draw pictures, play music and dance. We see her smiling and practically bouncing with excitement about the special time they share.
Look closely though and we see that the little boy doesn't seem quite so sure. He appears reluctant to join in the games and his facial expressions and demeanour suggest that he is shy and perhaps new to the class. The girl's optimism wins him over though and we see them become firm friends.