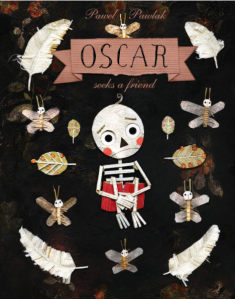 Oscar has lost a tooth and he's worried that this will stop him from making friends. It's tough being a skeleton at the best of times, but surely no one will want to play with him now when he looks so dreadful? Sad and lonely, Oscar resigns himself to the fact that his dog will probably be the only friend he ever has.
But then one day he spots a little girl burying a tooth in the ground. She has heard that doing so will make her dreams come true and what she wants more than anything is to find a friend. She agrees to give the tooth to Oscar if he will help her on her quest, so they join hands and set off together on an adventure.
Oscar and the girl spend the most wonderful day together, discussing what they would do if they each found a friend.  The girl shows him a rainbow and her favourite meadow. They smell the cut grass and talk of family and the seaside. Then Oscar leads her in to his own world which is dark and mysterious. They watch skeletons skate on the ice and listen to a strange creature with pointy teeth play the harp.
As the day draws to a close they agree to do the whole thing again tomorrow. Is it possible that they have both found what they were looking for all along?
Oscar is officially our favourite literary skeleton! Ivy finds him ridiculously cute and I love that the author has taken a creature that could potentially be considered scary and created a wonderfully warm and loving character. This is a fantastic story about friendship and it shows how important it is to listen to others and take the time to learn about different ways of life. Oscar and the girl are unlikely friends but they strike up a very strong bond through mutual respect and understanding.
The illustrations have been created using a collage effect which makes the characters almost leap off the page and I love the use of colour to differentiate between the two worlds that the characters move between.
This is a perfect read as we approach Halloween, but it works all year round!
Buy it now: https://amzn.to/3ofYryu
Note: Although we do receive books from Lantana Publishing for review purposes, we purchased this one ourselves last year.