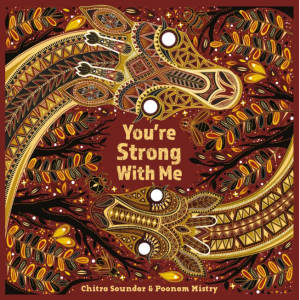 Hi Chitra and Poonam! We have loved your earlier collaborations –  'You're Safe With Me' and 'You're Snug With Me' – so we were really excited to discover your new title 'You're Strong With Me'. They are such heart-warming stories and the illustrations are unlike anything I've seen in a children's book before.
Can you tell us a little bit about yourselves, in case we have any readers who are unfamiliar with your stories?  
CHITRA SOUNDAR: I was born in India, and moved to the UK about a decade and half ago. I've written over 30 books for children, published across Asia, Europe and North America. I've been a teacher, programmer and a manager before I became a full-time writer.
I like short writing forms – from poems to flash fiction, picture books to fiction for younger readers, I love telling stories that hint of folk wisdom, magic and the bonds of a family.
POONAM MISTRY: My name is Poonam Mistry and I am the illustrator of "You're Strong With Me', the third and last title from this series. I have been illustrating for around 10 years now since I graduated with a degree in Graphic Design and Illustration. Early on in my career, I started off doing editorial work and illustrations for advertising. Then, in around 2015, I was approached to do some illustrations for an anthology of short stories and poems across the Commonwealth. Since then I have been lucky to illustrate 5 stories, 3 of them being Chitra's.
Chitra, what was your inspiration for these books?
CS: While the three books are all about a Mother and Baby relationship, my inspiration is the curiosity of the child that sees this world or a happening for the first time. In 'You're Safe With Me', Mama Elephant demystifies a thunderstorm. In 'You're Snug With Me' the polar bear cubs discover their new surroundings and now in 'You're Strong With Me', the little giraffe is eager to get out into the world and is learning every day from its mother.
Poonam, I love that your illustrations are so unique. Where do you get your ideas?
PM: Thank you! My style is inspired by Kalamkari textiles and Indian folk art. I take a lot of inspiration from art around the world too. I've always wanted my work to be heavily decorative but the images to tell a story. I like my work to be very detailed – so you have to spend time looking at the images to see all the patterns and hidden details. I keep my shapes quite simple for animals and plants just so it's not too complicated. I really wanted my illustration voice to reflect my heritage and the things I love so the reader could almost get an idea of who was behind the artwork.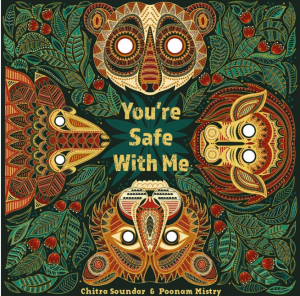 Do you recall your favourite picture books from when you were a child?
CS: I didn't grow up in the UK and didn't have access to a lot of picture books. My favourite stories are all stories my mother made up and my grandmother told me. I read a lot of comic books that are still very popular in India – called The Amar Chitra Katha comics. I've blogged about these here – http://www.chitrasoundar.com/comic-books-is-it-serious-reading/
PM: Peace at Last by Jill Murphy was a favourite of mine as a child. It is such a sweet story and beautifully illustrated. Where the Wild Things Are by Maurice Sendak was another stand out title for me. Again gorgeous artwork!
Do you think that these early experiences with great stories helped set you on your current career paths?
CS: I read a lot of series fiction as a young child. I still love series fiction. But my love for picture books came from the storytelling that was very normal in our family. We were always imagining things, playing with words and read a lot of poetry. I wrote poetry and essays for a long time, until I went to university, before I turned to fiction. I think reading books that are rich in language and imagination definitely helped when I decided I wanted to become an author.
PM: Over the last few years I would say yes, but previous to this I always thought I would end up doing surface patterns for textiles and wallpaper. When I was studying to become an illustrator there was a big focus on commercial, fashionable illustration. My style is neither. There were lots of picture books with simplistic, bright, colourful illustrations and part of me thought my work would never be suitable. It was only when my nephew was born and took an interest in my work that I thought it may be possible. He was 4 and was able to tell me what was in my art so I thought well if he liked my work, maybe other children would too.
What do you think makes a good picture book?
CS: A good picture book has many elements. Repetitive and read-aloud language, interesting page-turns, a hook into the story and a great ending are all important. Regardless of the subject-matter, the internal core of the story should have a heart – an emotional connection with the child reading or listening to the story.
PM: For me I think a great picture book is one where the images and words are married well together and the narrative and pictures are one.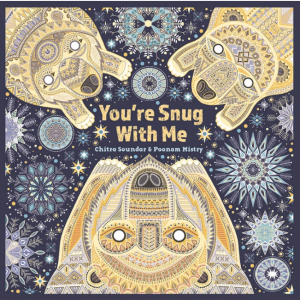 Is there anything you'd change about the current children's book landscape?
CS: We need more books in translation from other cultures and countries. I think UK publishing has grown very insular by exporting the great books from here – but not rewarded the children here with books from other places. We need regular stories with better representation by giving opportunities to those who are not often invited to participate.
All readers should look for the Reflecting Realities report produced by CLPE. You can find it here: https://clpe.org.uk/publications-and-bookpacks/reflecting-realities/reflecting-realities-survey-ethnic-representation
PM: I'd like to see more illustrated picture books of retellings of traditional stories told around the world. I don't think there are enough of these in bookshops, especially in larger retailers. I also would like to see more opportunities for POC to be published too. Publishers, like Lantana, are doing an amazing job of championing books that represent everyone as well as giving writers and authors of colour a platform to have their stories told.
 Are there any current children's authors/illustrators who you really admire?
CS: There are too many to name. My library card is always fully borrowed and I attend so many book launches of friends who are amazing authors. So I won't name one or two here. But I do have a list of South Asian authors and illustrators on my website to share. http://www.chitrasoundar.com/british-south-asian-kidlit-creators/
PM: Sanjay Patel is a favourite of mine. I am in love with William Morris's wallpaper designs and I am a big fan of Rob Ryan's paper cuts.
Do you have any plans to work on any more books together?
CS: At this time, I'm working on other projects. We've done three wonderful books together and my focus will be to make sure it reaches many more readers across the world.
PM: At the moment no. Although you never know, maybe in the future perhaps we will. I think both of us want to have some time doing projects separately. It's been amazing working with Chitra. She is an incredible storyteller and I am truly honoured that I got to illustrate a few of her wonderful stories.
A huge thank you to Lantana Publishing for facilitating this interview and for inviting us to be part of the book tour for 'You're Strong With Me'. If you haven't read this series then I would highly recommend checking them out.
All 3 are available to purchase from the Lantana Publishing website – www.lantanapublishing.com. For every book purchased on the website, Lantana donates a book to children's hospitals via Read for Good UK.