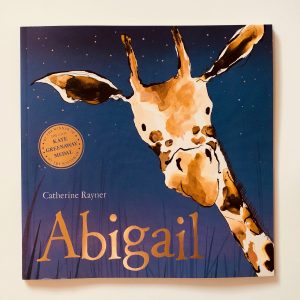 Abigail is a beautiful giraffe who loves to count – however the things she wants to count won't keep still!
A ladybird scuttles away when she tries to count his spots. Then she tries leaves but the zebra gobbles them up faster than she can count them. As each attempt at counting is scuppered she starts to get frustrated and when night falls she is ready to give up.
However when they look up, Abigail and her friends discover that nature has given them a whole sky full of twinkling stars which they can count together.
The illustrations in this one are breathtaking and there's a fantastic fold out page where you can stretch Abigail's long neck up to the sky. Ivy was super excited when she discovered that page and now she squirms in anticipation as we get to the end of the story.
Gorgeous!
Buy it now: http://amzn.to/2oOzTyt