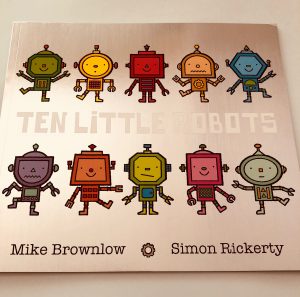 Ivy and I both love the 'Ten Little…' books by Mike Brownlow and Simon Rickerty so we were super excited to discover this brand new addition. I believe there are now 7 titles in the series and this one is definitely in our top 3 (our absolute favourites are Ten Little Dinosaurs and Ten Little Superheroes!).
The story starts with ten shiny new robots who have just been switched on at the robot factory. They are very excited by their surroundings so they decide to explore –  with catastrophic results! We slowly count the robots down from ten to one as they encounter lasers, crushers, cogs, drones and explosions.
Can the last remaining robot restore order to the factory and bring all of his robot friends safely back together? Of course he can!