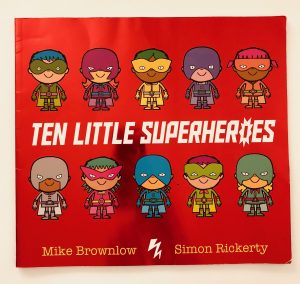 We are big fans of the 'Ten Little …" series by Mike Brownlow and Simon Rickerty and this one is our second favourite (Nothing beats Ten Little Dinosaurs!).
The story sees our ten tiny heroes take on the League of Bad Guys who have an evil plan to take over the city. They do their best to battle the hilarious baddies (which include Hippo Man, Glue Girl, Crab Man and Hypno Girl) but on each page we see one superhero disappear. The book counts backwards from ten until eventually there's only one hero left. The bad guys think they've won and start to celebrate but the Super Kids have one last trick up their sleeve. Can all ten of them reassemble and save the day?
Ivy gets really excited when we read this as the rhyme is really bouncy, the illustrations are a riot of colour and there are lots of big superhero words to shout as you read –  POW! ZAP! SPLAT!
Buy it now: https://amzn.to/2Jybh5x