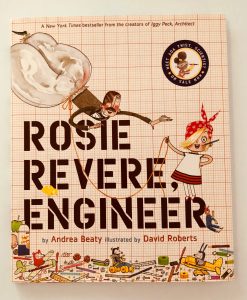 We love this series of books by Andrea Beaty and David Roberts. Ada Twist is the best of the bunch in our opinion but this one comes a close second!
Shy little Rosie Revere dreams of becoming a great engineer. Like a magpie she collects gizmos and gadgets that other people have thrown away and in her bedroom at night she turns them in to amazing inventions – including a hot dog dispenser and some helium pants!
Her favourite uncle is a zookeeper so she makes him a special hat (made of  parts of a fan and some squirty cheese) to keep the snakes off his head. She proudly hands it over but her uncle laughs! He says he likes it but poor Rosie is mortified and vows never to invent anything again.
But then one day she discovers that her very clever aunt (who used to build aeroplanes) dreams of being able to fly and she begins to wonder if she could make this happen. Can she use all of her ingenuity and help her aunt take to the skies?