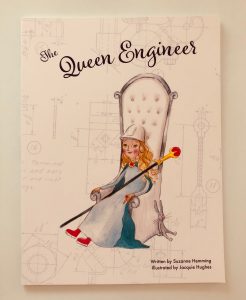 If you're a fan of books with strong female characters then this new one from Suzanne Hemming (author of 'She's Not Good For A Girl, She's Just Good') is definitely for you.
The story is about a young princess called Florence who has her heart set on becoming a great engineer. She has the brain and the ambition but she has one problem – her father, the King, says that instead of pursuing her dream career she has to marry a Prince and have babies.
Young Flo is devastated. She has no problem with Princes and babies but she also wants to be a great engineer and the King says she can't do both. She flees the palace and bumps in to her old babysitter, who sits and listens to her woes. The lady tells her that you always have to be who you are, not who other people think you should be. She shows Flo a picture of her wedding day (where she married a Princess) and says that when you follow your heart, some people will accept who you are and some won't but what matters most is that you are always true to yourself.
Flo thanks her old friend and rushes back to the palace to speak to her parents – but when she gets back she discovers the King in distress. Could her engineering skills save him and make him realise where her future lies?
We bought this book about two weeks ago and Ivy has requested that we read it pretty much every day since then. She loves the illustrations and I think it's fantastic to be able to expose her to such strong characters at such an early age. Little girls need to know that they can be whoever they want to be and books like these are so important for reinforcing that message.
Buy it now: https://amzn.to/2nvimel