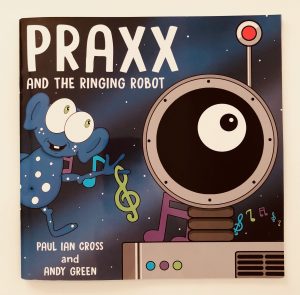 Praxx is a little alien who lives on a planet called Ekkadora with his mum and his best friend Zobott the robot. Praxx has lots of chores to do but he's not a big fan of doing them himself so he sometimes enlists Zobott's help.
One morning Praxx is rudely awoken by Zobott who is making lots of strange, really loud noises – RING! BLEEP! CROAK! It transpires that Praxx had asked him to help out with tidying up – but he has put everything in the wrong place. The alarm clock, phone and the family pet are all inside Zobott's tummy storage box, there's a worm in mum's handbag and their rocket has been parked in the house!
Praxx learns an important lesson – always do your chores yourself else they might end up taking three times as long to fix!
This book is really fun to read out loud because there are lots of crazy sound effects and the opportunity to do some good robot/alien voices. It makes Ivy laugh every time we read it and she loves the cartoonish illustrations.
Buy it now: https://amzn.to/2JBYQcT